Welcome to The Camerata Singers!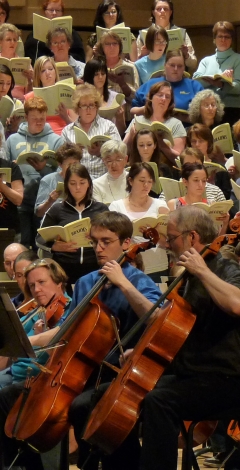 The Camerata Singers of Pocatello, Idaho, USA is a symphonic choir under the direction of Dr. Scott E. Anderson, Director of Choral Activities at Idaho State University.

Founded in 1968 by Chilton Phoenix and Ferris Edgley, the choir has performed almost every major choral work in its thirty-eight-year history as well as numerous shorter pieces including motets, carols, and opera choruses. Two of the original sixteen voices still sing in the choir today.


Some of the works performed in recent years include:
- Mozart and Brahms Requiems
- Mozart's Mass in C major
- Schubert's Mass in G,
- Puccini's Messa di Gloria
- Ramirez' Misa Criolla
- Beethoven's Ninth Symphony
- Handel's Messiah
- Mendelssohn's Elijah
- Haydn's The Seasons
- Vivaldi's Gloria
- Bernstein's Chichester Psalms
- Orff's Carmina Burana
- Mahler's 8th Symphony
- Verdi's Requium
- Mendelssohn's Elijah!
News Flash!
11/11/2017 - Members: Remember to attend the Special Rehearsal scheduled for Saturday, November 18 in the ISU Fine Arts Choir Room.
11/11/2017 - Members: Official Rehearsal Calendar has been modified with most current changes.
Rehearsals are held every Tuesday evening at 7:30 sharp in the ISU Fine Arts choir room.
Site Updated 11/11/2017