About Us
♥

Our Region

♥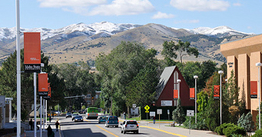 The Camerata Singers rehearse and perform in Pocatello, Idaho, USA on the western slopes of the Rocky Mountains. Our climate is high desert, warm and dry in the summer with crisp nights, cold and dry in the winter, with substantial snows in the mountains. We are in "open range" country where the cattle and sheep are free to roam. Deer, moose, elk and cougar abound in the surrounding countryside. A series of hydroelectric dams on the Snake River provide electricity to our region and irrigation water to the fertile volcanic soils of the Snake River Plain known for its extensive potato crop.
Pocatello, a city of 50,0000 people, is 160 miles north of Salt Lake City and shares its culture, including the tradition of infusing music into daily life. Within a three- hour drive we can enjoy the peaceful slopes of Sun Valley, Idaho and the natural wonders of Yellowstone and Grand Teton National Parks. Pocatello is known as the "Gate City" in reference to both its geological history as a natural gate through the Portneuf Mountains and to its most recent history as an important railroad hub. The Oregon Trail runs just south and west of the city. Pocatello is also home to Idaho State University where a new state-of-the-art Performing Arts Center has been built. This has enhanced the musical offerings in the region. Since 1999 Pocatello has been home to the Idaho International Choral Festival where singers from all over the world assemble to share their rich musical traditions.
♥

Our Director

♥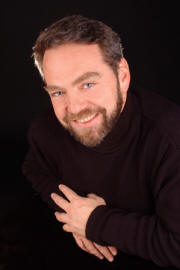 Dr. Scott Eric Anderson conducts the ISU Chamber & Concert Choirs, the Camerata Singers, and teaches Choral Conducting, Choral Methods, and voice. Dr. Anderson has received Idaho State University's Master Teacher and Outstanding Public Service awards on three occasions.
Anderson received the Bachelor of Arts in Music from Whitworth College, the Master of Music from Westminster Choir College, and the Doctor of Musical Arts from the Conservatory of Music at the University of Missouri-Kansas City. He has studied conducting with such eminent teachers as Eph Ehly, Joseph Flummerfelt, Allen Crowell, Frauke Hassemann, Wilhelm Ehmann, Robert Shaw, and many others. Choirs under Dr. Anderson's direction have traveled throughout the United States, Europe, and South America.
As Director of Choral Activities at Idaho State University, Anderson has led the Idaho State University Chamber Choir or Camerata Singers on performance tours of Poland, Slovenia, the Czech Republic, Brazil, England, Scotland, Ireland, Wales, Italy, Greece, Austria, Germany, Hungary, Spain, Portugal, Peru, France, Denmark, Sweden and Norway. Idaho State University choral ensembles have performed under Anderson's direction at state, regional and divisional conventions of the American Choral Directors Association and the Music Educators National Conference.
On April 25 and 26, 2014, Dr. Anderson conducted the Idaho State-Civic Symphony and the 160 voice combined ISU Concert Choir and Camerata Singers in performances of Verdi's Requium. Dr. Anderson serves as the Artistic Director of the Idaho International Choral Festival where choral groups from around the world join together in Pocatello, Idaho for a week of choral performances, conducting master classes and artistic and cultural exchange. He has served the American Choral Directors Association in state, divisional, and national offices, and has been featured as guest conductor, lecturer and teacher throughout the United States and abroad.
♥

Our Accompanist

♥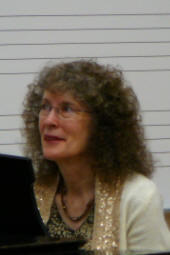 Adonna Drake, pianist and organist, has been an accompanist since she was 12 years old. She has played for vocal soloists, university choirs, ensembles, church choirs and congregations, and instrumentalists. The accompanist for Camerata Singers since 1991, she has worked under conductors Sherrill Redd, Ferris Edgley, Larry Anderson, Dr. Scott E Anderson, and Mark Lawlor. Adonna was the accompanist for the Camerata Singers'2008 Scandinavia tour, the 2003 tour of the British Isles, as well as for the 2001 tour of Italy, Slovenia, and Austria.
She accompanied the Idaho State University Chamber Choir in the first Idaho International Choral Festival held in Pocatello, Idaho in early July 1999. Later that summer, she accompanied the Chamber Choir in the tour to Brazil where they were invited to be the demonstration choir for Weston Noble at the International Convention for Choral Conductors. Ms. Drake earned both Bachelor of Science and Master of Science degrees in mechanical engineering, the first woman to graduate with an engineering degree from Utah State University.
She has raised five children, three girls and two boys, which she considers her greatest engineering work. She is happily married to Ron Drake, former Professor of Nursing at Idaho State University and a retired Air Force Lieutenant Colonel. Besides people and music, her interests include philosophy and religion, with a special fondness for the emerging field of personal ontology. She has been a teacher of math, religion, and music, and has served twice as keynote speaker for a national organization. In her spare time, she enjoys cooking, home decorating and spending time with her grandchildren.